Car park is an important facility in a property development project. Creating a synergy between a car park facility and the characteristics of the property, not only provides a high-quality and professional car park service to property owners and end-users, but also improves the image of the property itself, which leads to a good return of investment.
Urban Parking has years of experience in managing different types of car park. It engages in managing many diversified car parks and related road management projects in Hong Kong and Mainland China, including:-
International Airports
Hospitals
Trade and Exhibition Centers
Shopping Mall
Commercial Buildings
Industrial Buildings
Private Residential Properties
Government Offices and Public Facilities
Transport Interchange Terminals
Temporary Car Parks of Vacant Sites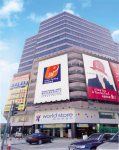 Different car parks have different needs on operation, human resource, control procedure, and system application. Having years of experience in car park management, Urban Parking is able to provide the most effective and cost-saving management plan to car park owners and users. We can ensure that the operation can fulfill the needs of car park service of the property and end-users as well as to reach the highest market value.
In order to increase the flexibility on business development to car park owners, Urban Parking has many kind of cooperative alternatives for you to choose on: fixed rental sum, and / or percentage share of revenue, or manager remuneration under mutual agreement. (We have other flexible operative method, please feel free to contact us.)